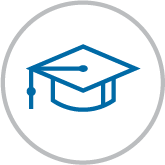 Peerceptiv creates a genuinely student-centered and processed-based classroom. Encourage student engagement in higher education by providing a platform for academic dialogue about each others' work products. Discussion among peers drives improvement of student work.
With double-blind peer review, instructors can offer a wide range of writing, presentation, video upload, and other assessments in any classroom context. These higher-order learning tasks build the critical thinking, writing, and interpersonal skills employers demand most in the workplace.
Peerceptiv enables true peer-to-peer learning, while offering professors the flexibility to participate in assessment any way they wish. Faculty can collaborate with students throughout the review process or participate selectively, especially in high enrollment courses.
No matter the degree of professor participation in the assessment, Peerceptiv's grading algorithms are research-validated and allow an almost infinite number of course configurations and grade scale adjustments. This allows instructors the flexibility to assign many types of assignments.
Monitor student progress through a wide range of instructor analytics, and confirm learning objectives are met in each of the elements of an assignment. Peerceptiv's data also allows faculty to identify students in need of early intervention and improve assignment and rubric design over time.
Peerceptiv is configurable with a wide range of Learning Management Systems, allowing for a seamless learning experience for professors and students integrated within your school's existing technology.
Collaborative assessment can be used in any discipline to enhance the types of assignments professors can assign. Professors can increase student engagement in higher education large enrollment classes by moving away from multiple choice and toward collaborative learning opportunities that are now possible through scalable peer assessment. Please review a few of our case studies to see how other schools are transforming their assessment process. You can read about how instructors are using peer assessment in the sciences, communication studies, and social sciences.